Personalized Victory100 Website
- you will get your own branded Victory100.com/[yourname] website to share with others.
Promote Your Other Websites/Businesses
- you have a VERY unique platform to promote your personal website, blog and other ventures (network marketing, real estate, financial, etc.) easily through the Victory100 social tool.
Training
- Victory100 is constantly adding new training modules, videos, eBooks and more to help educate you on social media, personal business and network marketing as well as keep you on top of trends.
Business Development Tools
- in addition to the robust social media tools, you can create custom landing pages and auto-responder campaigns, plus you can manage lead and prospects through your back office.
100% Commission
- the foundation of the Victory100 business opportunity is that you can earn 100% product commissions.
...and so much more!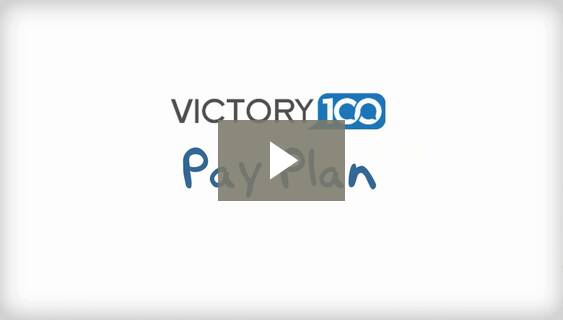 Victory100 borrows from the best parts of the traditional affiliate model - like generous 100% commissions, and combines it with the powerful multi-level downline found in network marketing. Our pay plan works on a rotating pay leg system where only one member will receive 100% commissions per product sold. However, because of the dynamic Upline Leg, each member has the ability to receive 100% commissions to infinity!
Level and Pay Legs
Every customer who purchases a Victory100 product will be placed on the enroller's first level. For example, if 20 customers purchase 20 products from Bob, Bob will have 20 customers on his first level.
Direct Leg
The 1st, 3rd, 5th, 7th, 9th, 11th, 12th, 13th, 14th, 16th, 17th, 18th, 19th, 21st and every customer that isn't a multiple of 5 are in the Direct Leg. You will receive commissions from direct leg customers.
Upline Leg
The 2nd, 4th, 6th, 8th, 10th, 15th, 20th, 25th and every 5 customer thereafter are in the Upline Leg. Commissions from your upline leg customers pass up to the upline.